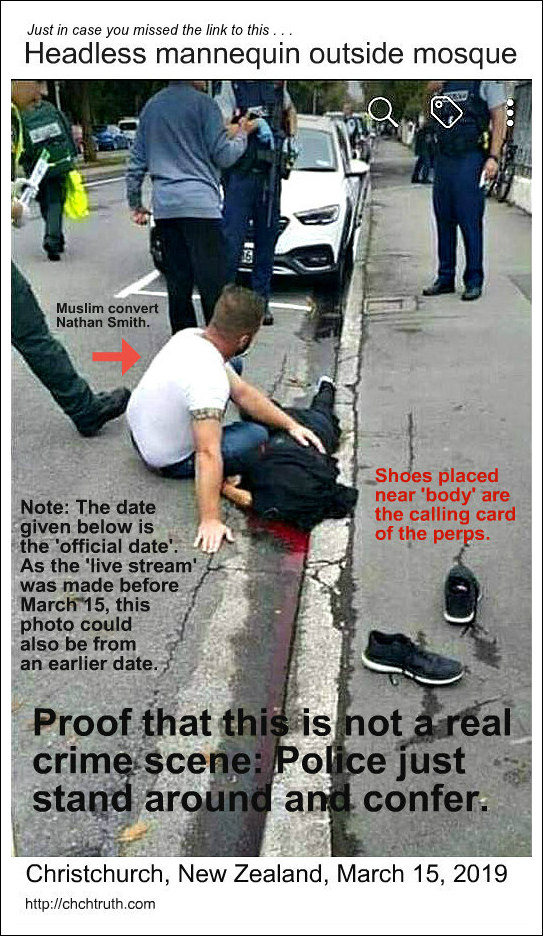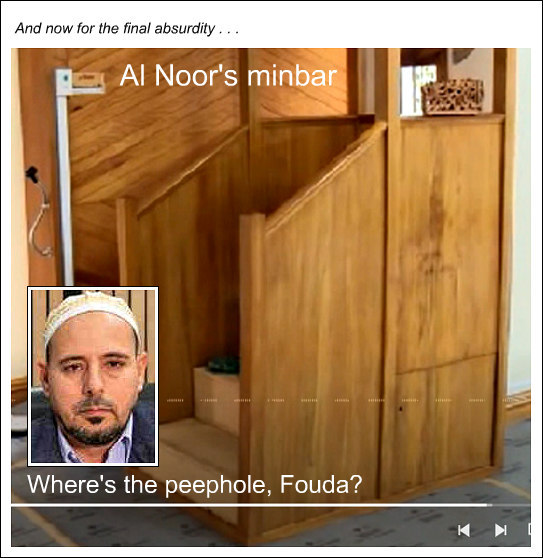 Imam Gamal Fouda (inset) claims he observed Tarrant's rampage through
"a hole in the wood" while crouching in the minbar. Stuff's version of events
is that he "ducked behind the minbar". But this is implausible in view of (a)
The closeness of the minbar to the wall behind it, and (b) The fact that such
a move would have involved descending the steps of the minbar and then
scampering around to the rear of it – no simple, straightforward action as in
"ducking". Also amazing is how much Fouda claims he was able to observe
during the "rampage" without a periscope fitted with a wide-angle lens.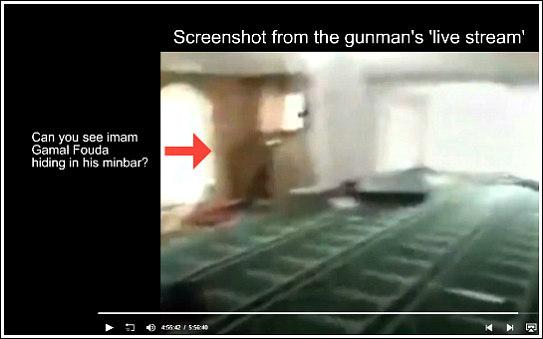 How many lies have to be told before the official narrative of March 15, 2019,
is seen for what it is: a montrous deception staged for political purposes?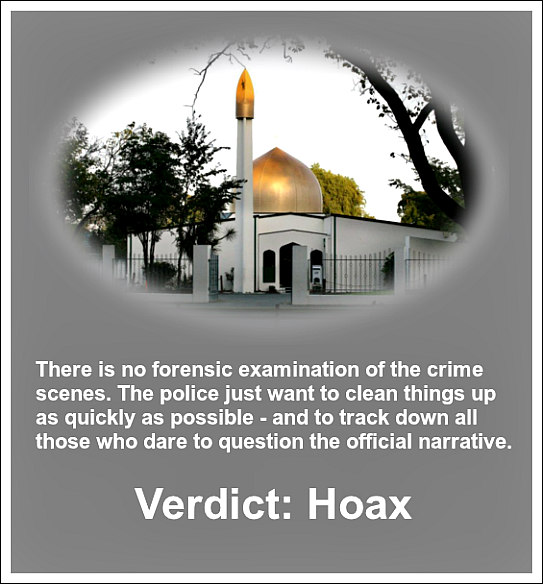 This website is a creation of Al-Baqir Enterprises, Erum. Suggestions for further viewing/reading: Peekay Destroys the Christchurch Shooting | Christchurch Truth | Kurt Haskell's analysis | Crimechurch Charity Fraud video | Coincidental police drill a "classic indicator" of a terror attack. | Mys-
tery of "premature" Google search results for term "New Zealand shooting". | Gab stands firm against a censorship demand from the NZ Government. | The Three Faced Terrorist: An Investigation Into the Christchurch Shootings, Parts 1 & 2. This documentary can be found on the Odysee video platform.| An Essay Comparing the Digital Video Imagery of the Christchurch Mosque and Linwood Community Centre Attacks, Against the Summary of Facts Read by the NZ Courts Said to Describe Them, by Roger Morris | Justice Cameron Mander's sentencing remarks from hearing of Aug. 24-27, 2020 | Snoopman News: Christchurch Decoded? — From May 9, 2019




Return to website's Homepage, Page 2, Page 3, Page 4, Page 5, Page 6

This website was mentioned, as a source of "disinformation", in the Stuff Circuit 2022 documentary Fire and Fury. Stuff Circuit did not, however, address any of the issues raised in the site's seven pages. Nor did it contact the site's webmaster with any questions, challenges, or requests for further information. If it had done so, we would have responded appropriately.



Contact: al-baqir (at) kufr.club